Residential and commercial window cleaning. We specialize in residential and commercial window cleaning, both interiors and exteriors. We use dish soap as our primary cleaning agent as well as a mop and squeegee. We employ the use of drop sheets when cleaning interiors to ensure that we keep the ineriors as clean as they were when we found them.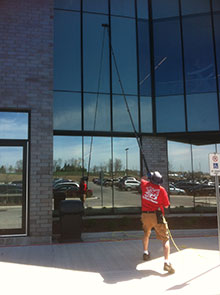 Eavestrough cleaning. Cleaning and maintaining the integrity of your eavestroughs is a crucial aspect of home ownership. Using leaf blowers and hand tools we ensure that your eavestroughs are clean and running effectively. Following our eavestrough cleaning we make sure to clean up whatever mess has been made.
Cleaning vinyl house siding. Through the use of dish soap and environmentally safe chemicals we scrub vinyl house siding with brushes until it is sparkling clean. We take care in making sure not to harm any surrounding plants or valuables during the cleaning. Afterwards we make sure to clean up any mess that may have been made.